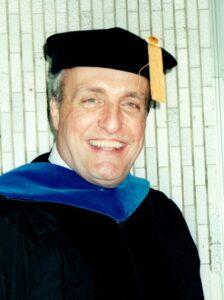 Prior to his work in Russia and Ukraine, Dr. Bernbaum worked for the Department of State from 1972‐1976 and then spent nearly two decades with the Council for Christian Colleges & Universities in Washington, D.C.  During his time there, he founded and directed the American Studies Program, established the Latin American Studies Program and the Los Angeles Film Studies Program, served as the organization's Executive Vice President, and finally headed up their Russian Initiative and developed the Russian Studies Program. While working on the Russian Initiative, Dr. Bernbaum spent a semester teaching at Nizhni Novgorod State University.
In addition to his work in Russia, Dr. Bernbaum has written many articles and has authored two books, Why Work? and Perspectives on Peacemaking. He also wrote monthly "Reflections on Russia."  Dr. Bernbaum lectures on college and university campuses, and is a speaker at seminars, workshops, and weekend retreats. Dr. Bernbaum received his undergraduate degree in history from Calvin College in Grand Rapids, Michigan.  He earned his Master's degree in European History and his Ph.D. in European and Russian History from the University of Maryland.  Dr. Bernbaum also received the first Honorary Doctorate degree issued by Nizhni Novgorod State University in Russia in 1995.  In May 2009, Dr. Bernbaum was given a third doctorate when Huntington University (Huntington, Indiana) awarded him with a Doctor of Humane Letters for his work in international education.
Dr. Bernbaum lived in the Washington, D.C. area until the Fall of 2022, when he accepted an invitation to spend the 2022-23 academic year as a Senior Fellow at the Paul Henry Institute for the Study of Christianity and Politics at Calvin University in Grand Rapids, Michigan. 
The Bernbaums raised a large family following the deaths of his wife Marge's sister and brother‐in‐law in 1974‐75.  John and Marge inherited and raised a second family of six children, in addition to their own three children, all of whom are now adults.  Marge died in May 2020 after a courageous struggle with pancreatic cancer, her third cancer battle.
The Bernbaums have fourteen grandchildren and five great-grandchildren.